Carryall 35L Backpack
Travel Backpacking Backpack
*PREORDER NOTE: The estimated ship date is early August 2019. If you have any questions or concerns about delivery, please reach out to us at hello@kosantravel.com

Our Carryall 35L Backpack is the perfect backpacking backpack. From backpack to duffle, water to land, we designed this for you & all your travel needs. Utilizing a waterproof + virtually cut-proof fabric, then adding in tons of pockets, this backpack is everything you need.
The Carryall 35L Backpack is going to be your home away from home. Bring it everywhere and anywhere with you, from backpack to duffel this backpack offers intuitive packing aids, hidden laptop and passport pockets, and waterproof lockable zippers, to keep your things, secure, dry and organized whether you are going for a few weeks or a few months.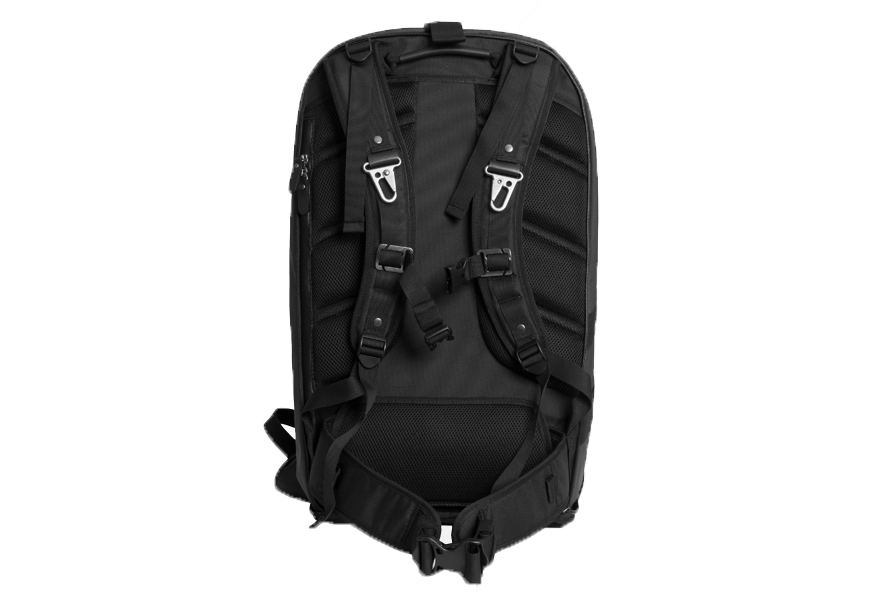 What Makes it The Best Backpacking Backpack?
The 35L carryall is the best backpacking backpack out there because it was built completely with the traveller in mind. Not only did we put a ton of heart, passion and effort into this backpack but so did the Kosan Travel community, through the continuous feedback and unwavering support we received, we have been able to iterate this bag along the way and make it the perfect bag for your travelling needs. Here are some of the highlights that make it one of the best travel bags out there:
The clamshell opening means you can unzip the backpack all the way and locate anything you need.
The 35L size means you can use your packing cubes to help keep you super organized.
All of the meshed pockets, means you have a built-in laundry compartment.
All of the additional pockets means you have special places for your, Laptop, Passport, Phone, + more.
Adjustable straps & waistbelt are there to help reduce the weight and pressure on your neck so you can wear it for extended periods of time.
An additional strap means you can make this into a backpack or duffle bag.
The Most Durable and Secure Backpack Yet
One of the things we are most proud of when it comes to the carryall is its exceptional design, everything from the fabric to the colour choices we made was purposefully chosen. And at the front of mind for nearly all of our decisions was durability and security. We wanted you to always feel that your belongings were safe, no matter if just flying from city to city or caught in a heavy tropical storm, we wanted to make this backpack would keep up with you and all of your adventures. Some of the key durability and security features for this 35L backpack are:
Made with Cordura and Six Up fabric means it could potentially last forever.

Waterproof, built-in rain cover & pack liner.

Water resistant, the backpack has sealed zippers and a made of a water-resistant fabric.

Virtually cut-proof and tear-proof.

TSFA locks on all the zippers.

Hidden padded laptop pocket for added security.

Hidden passport pocket for added security.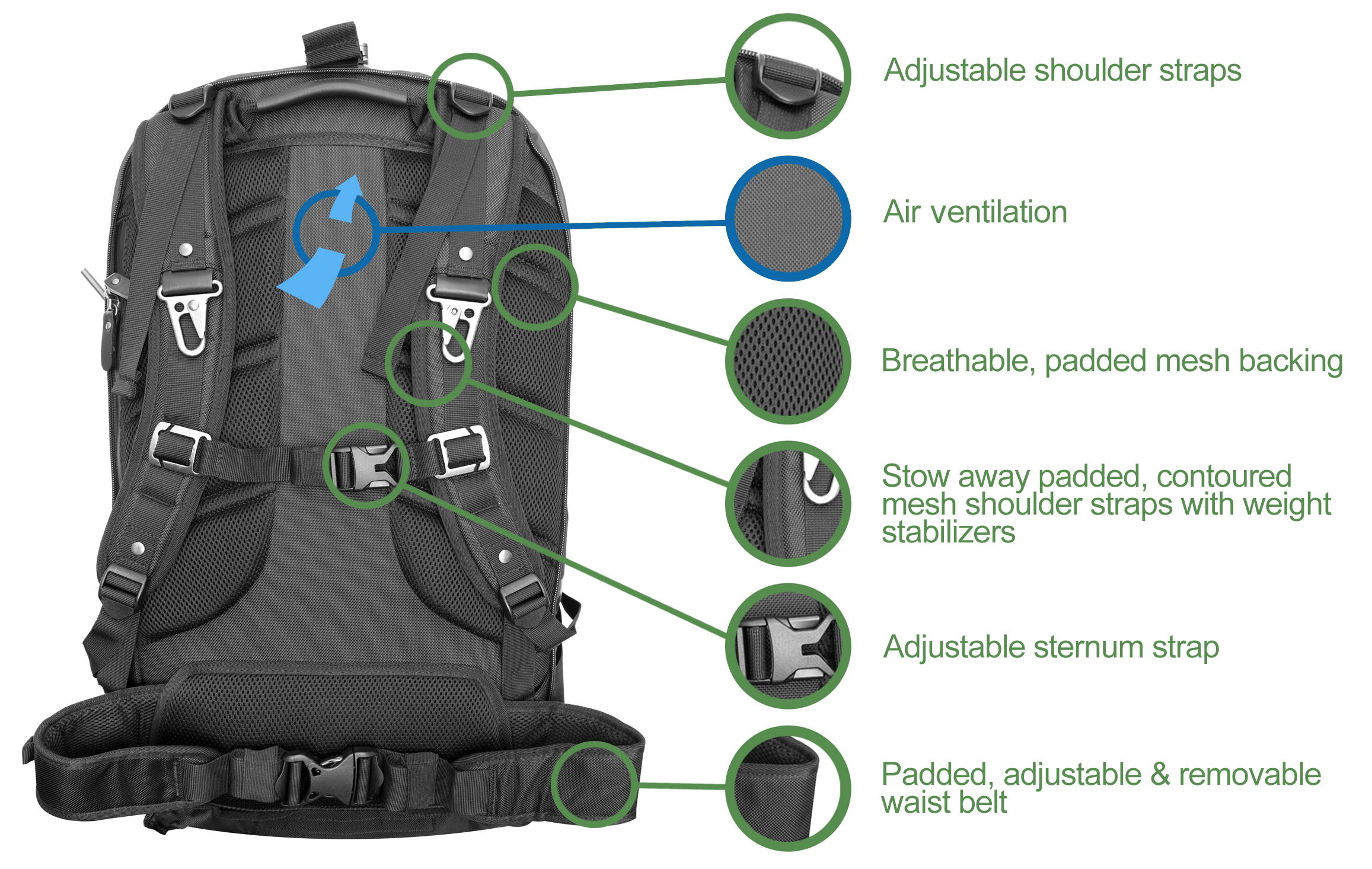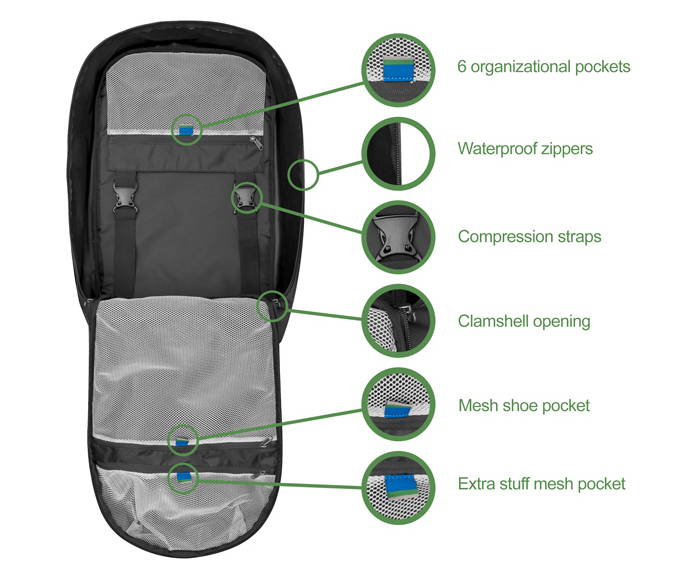 Travel Everywhere & Anywhere with this 35L Bag
We design the carryall entirely with you in mind, from the years we spent developing it, to the months, weeks and days we spent travelling with it. Everything down to the leather pulls was designed and crafted thoughtfully and meticulously. We've crafted this backpack with the versatility and flexibility to take whatever you throw at it. Some key details that went into this travel bag are:
It's black to help you blend in with the locals.

Its size was deliberate to help you with overpacking tendencies.

There are a lot more pockets then you probably need.

All the pockets are 3D Pockets, meaning it packs outwardly.

And of course, it's carry-on safe.
We Believe in Social Responsibility & Sustainability
We care about how the travel backpack is made, just as much as the backpack itself. The Carryall 35L Backpack has produced an incredible factory located in Vietnam, just outside of Ho Chi Minh City. We want to keep it real here and let you know that we continuously visit our factory partners face-to-face to constantly be able to check on the extraordinary work they produce.